Online Application Procedure Guide |
① Click
Apply
on the right side of the website main page. (You can also click the upper
Apply
tab of the website.)
② If you access by clicking the upper
Apply
tab of the website, click
Apply
on the left side of the website, once again.
③ STEP 1 (Terms and Conditions)
Read the Participant Agreement and Collection and Use of Personal Information Agreement
carefully, then check the
I agree
checkbox and click
Next
.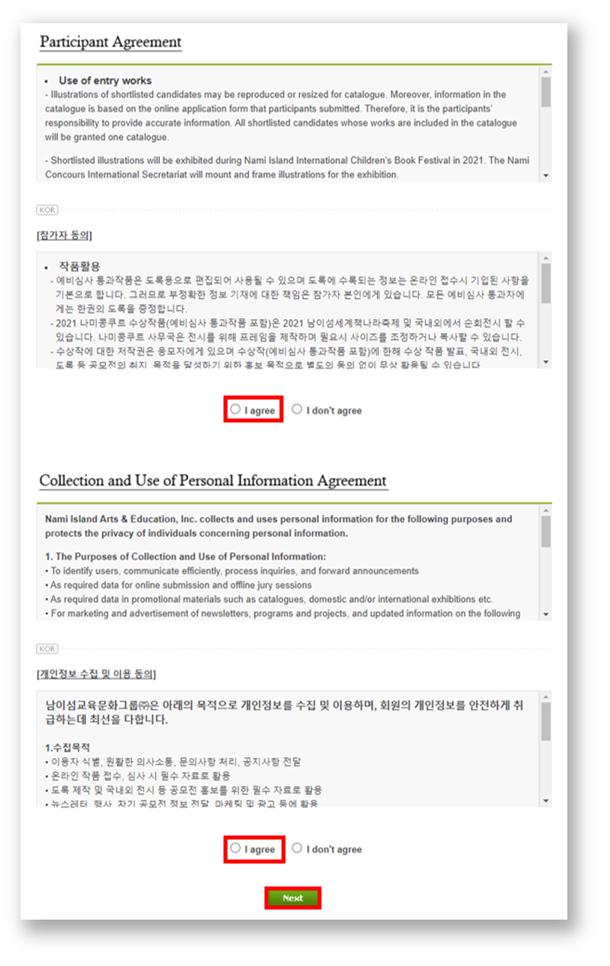 ④ STEP 2 (Application Form: Create an Account) Enter your Name, Email, Password and click Next. ※ Please, input your frequently used email address. Subsequent judge results and information will be notified via e-mail.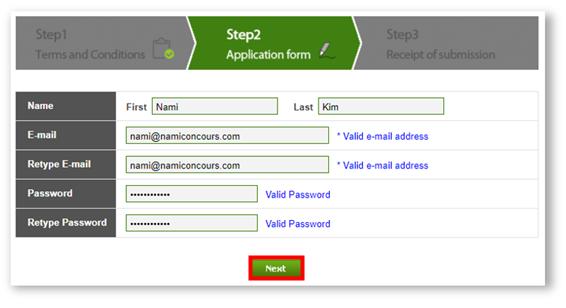 ⑤ STEP 2 (Application Form: Personail Information) Enter the required personal information. ※ If you are applying as a group, please enter other members' name in 'NOTE' section below.
⑥ STEP 2 (
Application Form
: Entry Details)
Enter the required entry information.
※ Please fill out the Author, Publisher, Year and country of publication, and ISBN if illustrations
are from a published book.
⑦ STEP 2 (
Application Form: Upload Image Files
)
Click
Submit
after uploading 5 illustrations.
※ Only images meeting the following requirements can to submitted:
a. The number of files per entry: 5 illustrations
b. Acceptable file formats: JPG/JPEG only (RGB)
c. Resolution for each image: Minimum 1024 pixels/ Maximum 4500 pixels
d. Data Size: No bigger than 4MB per image (No bigger than 20MB in total)
※
Modification cannot be made once you submit the application form.
⑧ STEP 3 (Receipt of submission)
Your submission is completed.
※ You can find your receipt of submission on View My Application menu.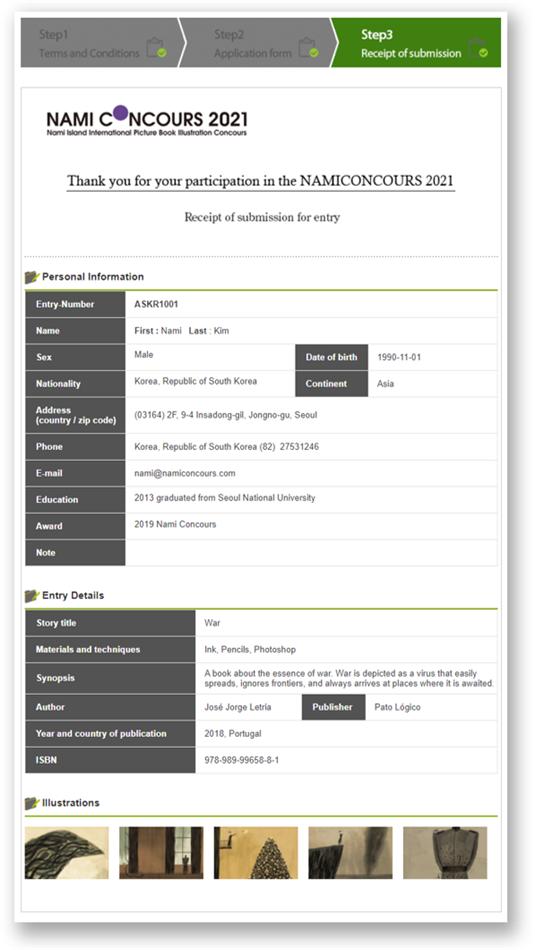 ① Click on
View My Application
on the tab below Apply menu and enter your Email and Password used for applying
.
② After logging in, you can check the entry number, submission date, and view details of your application form by clicking
View
.

③ You can print out the receipt of submission by clicking
Print
below
.